Catching up with Deutsch Kerrigan, LLP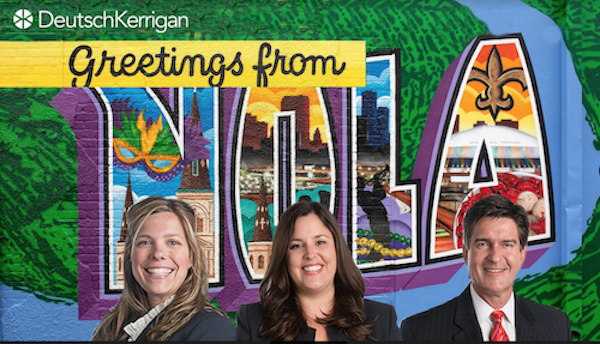 Since we have all been cooped up in our houses for the last three months (years?), Kelly Theard, Ted Le Clercq, and Melissa Lessell, from Deutsch Kerrigan, the PLAN Louisiana Firm, invite you to join them on a virtual vacation and for a tour of some of their favorite spots in New Orleans: VIDEO LINK
ABOUT KELLY THEARD: Kelly Theard specializes in construction and commercial litigation disputes. Her practice involves defending claims related to construction defect, architect and engineer professional liability, and other third-party injury claims. She also handles various general liability matters for local restaurants and department stores. Ms. Theard currently serves as the firm's Managing Partner as well as Head of the Construction Practice Group.
ABOUT FREDERIC THEODORE 'TED' LE CLERCQ: Frederic Theodore 'Ted' Le Clercq chairs the Commercial Litigation Group. He sees himself as the problem solver. He represents clients faced with labor & employment law, professional liability defense, civil rights litigation, and constitutional law claims.
ABOUT MELISSA LESSELL: Melissa Lessell partners with her clients faced with professional liability and complex commercial litigation matters. She helps professionals navigate through disciplinary actions, ethics investigations, malpractice, negligence and breach of fiduciary duty claims and lawsuits.
ABOUT THE FIRM: Founded in New Orleans in 1926 by Eberhard Deutsch and Emmett Kerrigan, Deutsch Kerrigan LLP is built on the foundation that we are problem-solvers, applying enduring principles of craft to serve clients effectively and efficiently. With over 60 trial attorneys and a substantial support staff, we apply our legal and support resources carefully to most effectively meet the needs of our clients.