Catching up with Kelly Law Partners, LLC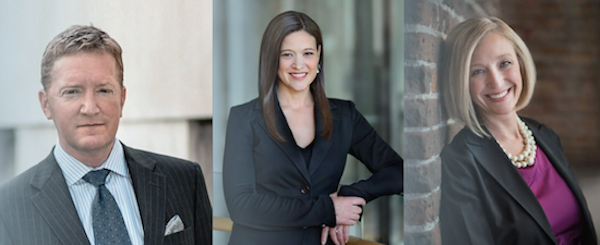 Kelly Law Partners, LLC is a litigation boutique focused on defending companies in employment, professional liability, construction, franchise law, products liability, commercial litigation, and class actions. We partner with our clients to provide them with the benefit of our experience, client focus, innovative thought, out-sized value, discipline and outstanding results. We are headquartered in Denver, Colorado, but our attorneys are licensed in six different states and handle cases in state and federal courts all across the country, often acting as national counsel, regional counsel and multi-district or lead class counsel for Fortune 500 clients.
Kelly Law Partners has been a PLAN member since 2013. Our firm's primary PLAN contacts – Bill Kelly, Chanda Feldkamp and Shannon Bell – share fun facts about themselves and how they have been working through quarantine:
WILLIAM J. KELLY III
Primary Practice Areas:
Commercial & Employment Litigation, Class Action Defense
Hometowns:
St. Louis, MO / New Orleans, LA / Denver, CO since 2007
What Life is Like Working From Home:
I DO NOT MISS: Rush hour traffic, parking contracts, dry cleaning bills, expensive sandwiches and $6.00 lattes, and – most of all -- sharing the floor bathroom with hipster coders who somehow never learned to wash their hands.
I DO MISS: In-person collaboration with a great team of smart people, ad hoc happy hours, and getting out of the house.

First Trip Planned After Quarantine:
Probably New Orleans. We missed a lot of New Orleans fun this Spring. We cancelled plans for French Quarter Fest, two weekends of JazzFest, a Tulane Alumni event and an Elton John concert. We are planning a visit there end of next month. It's no secret that city got hit hard with COVID-19; the Governor and residents of New Orleans aren't getting enough credit for their excellent response.
Hidden Talent, Skill or Hobby:
I am a decent cook and a good bartender.
I have been collecting music since age 5, when I purchased the vinyl-45 of Simon and Garfunkel's "Cecelia" with my allowance. My dad yelled at me for "wasting money," which made it more alluring.
I have powder, rock, slalom, mogul, all-mountain and backcountry (heel-lift & skins) skis. I officially have more skis than talent.
When sports are being played, I follow the St. Louis Cardinals and the New Orleans Saints. I share Colorado Rockies season tickets and I miss Coors Field a lot.
Favorite Maxims or Quotes:
"Anyone who says what's going to happen next is lyin' or crazy."
A business leader in New Orleans whispered this in my ear during a post-Katrina meeting in which folks were unreservedly full of prognostications. I am pulling it out of the vault for those among us with bold and certain COVID-19 predictions.
High School Superlative:
Most likely to get beaten-up during fraternity rush. Honestly, I was never a superlative at my high school. I did receive a creative writing scholarship in 1984. That earned me a spot in an NYC screenplay-writing course that was a superlative life experience for me.

Pet Helping the Family Through Quarantine?: Marco is a Havanese. He is loving this quarantine stuff.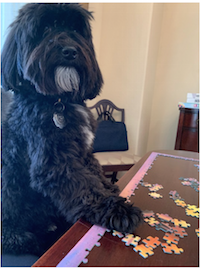 Primary Practice Areas:
Employment Law Defense, Insurance Coverage, and Class Action Defense
Hometowns:
Bern, KS / Kansas City, MO / Chicago, IL / Denver, CO since 2011
What Life is Like Working From Home:
Working from home at my house means frequent "office" visits from my 4 year old son, whose preschool was closed due to COVID-19. Lucky for me, my husband, Jeff, is a freelance artist and graphic designer who works from home, so he has been a lifesaver in keeping us all functioning as best as we can be with a rambunctious toddler on the loose. I do not miss wasting time on a commute. But I do miss restaurants, visits to museums or the zoo, and traveling to see family and friends.
First Trip Planned After Quarantine:
Probably Kansas to visit the family. Two of my brothers were supposed to get married in the last two months. In the end, they both did get married and we all watched via Zoom, but there are still celebrations to be had! But then, hopefully Spain for our ten-year wedding anniversary trip.
Hidden Talent, Skill or Hobby:
I coached gymnastics throughout high school and college. I'd love to have time to pick that back up as a side hustle.
I seem to have a heightened sense of taste. I can often detect certain ingredients in food, and I have won amateur blind tastings with friends.
I grew up on a farm and it only took a few times of helping to doctor cattle or to cut shattercane out of fields for me to realize that I was not cut out for that.
Favorite Maxims or Quotes:
"Your reputation is in the hands of others, the only thing you can control is your character."
"It is not what happens to you, but how you react to it that matters."
High School Superlative:
Out of my senior class of 10 people, I was voted as having the "best car" (a 1993 Pontiac Sunbird), which definitely says as much about them as it does me.
Pet Helping the Family Through Quarantine?: Porter, our lab mix.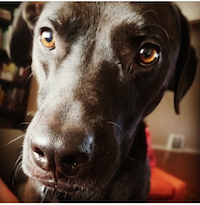 Primary Practice Areas:
Professional Liability Defense, Construction Litigation, and Commercial Litigation
Hometowns:
Rockford, IL / Denver, CO since 1999
What Life is Like Working From Home:
I DO NOT MISS: Angry Denver drivers, frantically driving home to relieve the babysitter (aka in-laws who need to be home in time for their nightly martini), dress pants and heels.
I DO MISS: Trips to the ice cream parlor with my family. Eating out at our favorite restaurants. Seeing people, on the 16th Street ped mall, in my office, and just out and about in general. I particularly miss in-person collaboration with my team and getting together with my clients.
First Trip Planned After Quarantine:
A beach. Any beach will do. Surprisingly, Colorado is not known for its beaches. Oh, and for the rest of my family, Star Wars: Galaxy's Edge. The Mandalorian and Disney Plus has been a welcome distraction during COVID-19. Traveling to a galaxy, far, far away sounds pretty great to everyone in my household about now.
Hidden Talent, Skill or Hobby:
I was admitted to the writer's workshop at the University of Iowa and performed a monologue I wrote in a theatre class.
My dad was a veterinarian and I bottle raised squirrels and raccoons.
My family and neighborhood friends have hosted a Progressive Dinner Party for the past several years and our house is known as the Jell-O shot house (and people look forward to it, not sure what that says about us or the neighborhood).
I went to a grade school that had a program for the hearing impaired and I know the entire ASL alphabet and can sing Bette Midler's The Rose in sign language.
I love a good game of pool.
Favorite Maxims or Quotes:
"Use it up, wear it out, make it do or do without."
A motto from World War II; however. I learned it from my father. It was posted on our refrigerator. It has been a lifelong reminder to be conscious of what we have and to avoid waste. It seems more appropriate these days than ever before.
"Go big or go home."
It reflects my approach to life and law.
High School Superlative:
Most likely to own stock in AquaNet and keep it in business? What can I say, I was a child of the 80's in a Midwest town.
Pet Helping the Family Through Quarantine?:
Coda is a Bernese Mountain Dog. He is my constant companion and is my reminder to get outside and enjoy some fresh air. There is nothing quite as good mentally at the end of the day as an early evening stroll through the neighborhood with Coda and my 7 and 11-year old boys and waving "hi" to our neighbors.
.