Catching up with Pietragallo Gordon Alfano Bosick & Raspanti LLP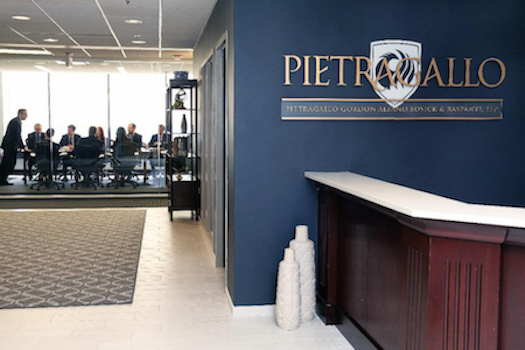 Pietragallo Gordon Alfano Bosick & Raspanti LLP is a midsize business and litigation law firm with offices across Pennsylvania. Our firm is known for its experience, customer service, efficiency, and ability to deliver results.
About Our Professional Liability Practice
Claims brought against professionals are personal. The Pietragallo Law Firm's Professional Liability team recognizes the complexity and sensitivity of these types of claims and realizes that the expertise of a highly trained professional is being called into question. Knowing that one's personal and professional integrity has been challenged, our attorneys vigorously dedicate themselves to help clients protect their professional reputation.
The firm has represented a wide variety of clients including:
· Accountants
· Actuaries
· Architects & Engineers
· Attorneys
· Broker/Dealer – FINRA
· Directors & Officers (D&O)
· Employment Practices Liability (EPL)
· Financial Advisors
· Fiduciary & ERISA Liability
· Homeowners Associations (HOA)
· Insurance Agents & Brokers
· Insurance Coverage and Bad Faith
· Medical Malpractice, Nursing Home Liability
· Non-Profit Agencies & Organizations
· Real Estate Agents, Brokers & Appraisers
· TCPA & FDCPA claims
About the PLAN Attorneys
P. Brennan Hart - PBH@pietragallo.com
On the biggest case of his career:
Successfully defended the claim by a publicly traded company in which it was seeking reimbursement from its insurers for 60 million in fines and penalties assessed by the DOJ and the EU for international price fixing by a rogue foreign subsidiary.
On other notable cases he has handled:
- Defended the Directors and Officers of a national religious based retirement community that went bankrupt.
- Defended a national motorboat racing association after a Formula One race boat crashed into a crowd of spectators injuring more than 200 people.
On what motivates him:
The practice of law is very much like a chess game. The more significant and complex the case and the more skilled the opposing counsel is, the more exciting the case is.
On his proudest moments as an attorney:
- Handing my son his diploma from Duquesne University School of Law as the President of the Law Alumni Association.
- Being appointed by the Pennsylvania Supreme Court to serve as a member of the Court's Disciplinary Board.
- Being elected to the National Board of the National Kidney Foundation.
Shelly R. Pagac - SRP@pietragallo.com
On the biggest case of her career:
During October of 2019, I defended a five day sexual harassment trial which included allegations of sexual harassment, intentional infliction of emotional distress, assault, and battery. In the context of the #metoo movement, it was particularly difficult.
The jury entered a verdict for the Plaintiff on some of the claims but the verdict was less than seven figures (and millions of dollars less than the Plaintiff's final demand).
As evidence of how the Plaintiff saw the verdict, the Plaintiff filed post-trial motions. Those post-trial motions were denied.
On other notable cases she has handled:
I obtained a complete defense verdict representing a municipality in a sexual harassment matter where the evidence included pornography and other unseemly personal conduct.
On what motivates her:
Winning (and happy hour).
On her proudest moments as an attorney:
- When my daughter yells at me to quit deposing her.
- When I represented my husband at a magistrate hearing; he was issued a ticket for moving through a stop sign while taking my son to speed camp at 7:30am. The ticket was dismissed.
- When I was the recipient of the Susan B. Anthony Award from the Women's Bar Association of Western Pennsylvania for my efforts in promoting equality and opportunities for women in the legal profession.
- When I received the Amram Award from the Allegheny County Bar Association for my commitment and work within the bar association and community.
Phillip R. Earnest - PRE@pietragallo.com
On the biggest case of his career:
Most high value coverage cases that I've handled involve purely financial or legal issues, but being asked to serve as coverage counsel in the Grenfell Tower of London fire loss and Bill Cosby assault cases stand out as demonstrating the real human impact that can occur in coverage litigation.
On other notable cases he has handled:
While they may not generate Law 360 articles, I am most satisfied by any case in which I represent a small or medium business being bullied by another business or a law firm who doesn't care if the truth is trampled on the way to a pay day.
On what motivates him:
The law can be both incredibly stressful and simultaneously boring, but we often can make the right thing happen.
On his proudest moment as an attorney:
Realizing after the first decade or so that I had the power to effect positive change.
Other Information About Our Firm:
Qui Tam False Claims Act Group
The Pietragallo Law Firm is home to a nationally-recognized Qui Tam practice. Over the last thirty years, our False Claims Act Group has recovered over $2B for federal and state taxpayers. www.falseclaimsact.com
Our Business & Corporate team has over 220 years of combined business experience and includes three former In-House General Counsel.