PLAN Celebrates 10 Years with Leadership Seminar at West Point...Hooah!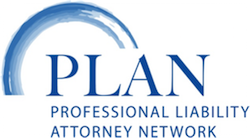 PLAN celebrated its 10th Anniversary by launching a West Point Leadership Program for its clients and members. "It is a privilege to serve as Chair of PLAN during our 10th Anniversary. As the preeminent specialty lines defense network in the country, PLAN remains committed to providing exceptional core educational programs while also expanding our services to provide new programs and training opportunities responsive to our clients' needs in a changing legal environment," shared PLAN Chair, Charlie Meyer, of O'Hagan Meyer. In that spirit, Meyer and Frank Schuler, Director at Large and Partner at Turner Padget co-chaired PLAN's first Leadership Conference, a program clients have been describing as "the best leadership event of their career."

This highly praised event was held at the esteemed West Point Academy. Shuler, who was the driving force behind getting this event off the ground stated, "As the proud parent of a West Point graduate, I had high expectations for this program. The program not only met, but exceeded those expectations. The training was the finest of this type that I have experienced."


The West Point Leadership program exemplifies PLAN's commitment to provide exceptional service to their clients. Thanks to the fantastic faculty of the Thayer Leader Development Group, including decorated Delta Force commander Colonel Lee, Major General John Batiste, Colonel James Johnson, and Colonel Sandy Schlesinger, the West Point leadership program offered a unique curriculum designed to provide practical leadership training principles applicable to their clients and members. As one attendee shared, "I am truly grateful for the experience I just had at the PLAN West Point leadership seminar. I have been to some leadership seminars, but nothing even comes close to this. It was truly fantastic."

Their successful West Point program followed another PLAN first, the New Attorney Training program in New York City on September 14. Designed to provide training to all new attorneys and claims specialists on the core requirements for success in every engagement and client relationship, this training program brought clients and PLAN members together for a candid forum on how to achieve excellence and superior service in every case.

PLAN will launch their first Women's Forum in the spring